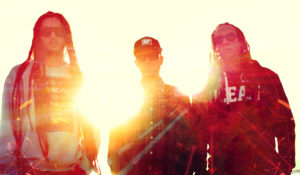 The Movement (w/ Patrick Lola Rising)
Saturday, August 11th
Details
Details
Time : 10 pm
Venue : Schmiggity's Live Music Dance Bar


The Movement's sixth studio album, GOLDEN, was released April 8, 2016, on Rootfire Cooperative. It debuted at #1 on the Billboard Reggae Chart.

Formed in 2004 by a trio of Sublime and Pixies fans, Joshua Swain, Jordan Miller, and John Ruff, aka DJ Riggles, launched The Movement with their "alternative reggae" debut album, ON YOUR FEET. In 2008, the group met Chris DiBeneditto, a Philadelphia-based producer who had worked with like-minded acts such as Slightly Stoopid and G. Love & Special Sauce. Relocating to Philadelphia, they recorded SET SAIL at DiBeneditto's Philadelphonic Studios. The Movement expanded with the addition of Jason "Smiles" Schmidt on bass and Gary Jackson on drums. In 2012, Miller left the group, and the trio, now fronted by Swain, released their fourth album SIDE BY SIDE, debuting at #2 on the Billboard Reggae Chart. In 2014 The Movement released BENEATH THE PALMS, a surprise acoustic album as a free gift to their fans. Shortly thereafter they began working on what would become their finest album to date, GOLDEN. Keyboardist Ross Bogan joined the group full time in Spring 2016.