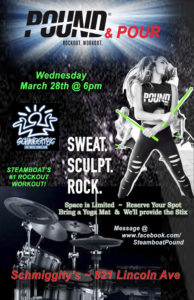 Pound and Pour Fitness Class (6-7 pm)
Wednesday, March 28th
Details
Free
Details
Time : 6 pm
Venue : Schmiggity's Live Music Dance Bar

For an amazing FREE night out with your friends, come to Pound & Pour event! Experience a high energy, floor shaking, Rock & Roll workout with Pound Pro, Deb Curd-Kinnecom and drummer Michael Kinnecom for a live Pound class. Class is 50 minutes and space is limited to 20. If you want to jam, IM us on Steamboat Pound & Fit Camp (www.facebook.com/SteamboatPound).
***We recommend you bring a yoga mat, water bottle, sweat towel.