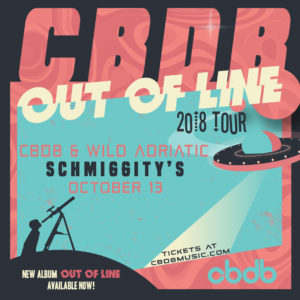 Wild Adriatic & CBDB
Saturday, October 13th
Details
Wild Adriatic
Rooted in the rowdy spirit of rock & roll, Wild Adriatic has built an international audience on a combination of groove, grit, and guitar-heavy swagger.
With the power trio's newest album, Feel, bandmates Travis Gray, Rich Derbyshire, and Mateo Vosganian update the sound of their influences — from Seventies rock to Motown to soul — for a contemporary audience, taking influence from the past but never losing sight of the present. They aren't revivalists; they're modern men, carrying the torch of melodic, riff-ready, high-energy rock into new territory.
CBDB
Fresh off the release of their impressive third full-length album Out of Line – recorded at Zac Browns legendary Southern Ground Nashville studio – CBDB is set to take the country by storm. Soaring monthly listeners and followers have further propelled their growth & continue to bring the band widespread attention, interest, and new fans daily. Dive into CBDB's eclectic catalogue of tunes today and catch them live on tour near you soon!