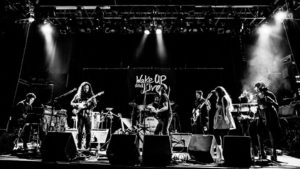 Wake Up and Live (A Bob Marley tribute)
Saturday, January 25th
Details
Details
Time : 10 pm
Venue : Schmiggity's Live Music Dance Bar

"Don't bury your thoughts; put your vision to reality, yeah!"
-Bob Marley, "Wake Up & Live"

Denver guitarist and vocalist Dave Halchak decided to put together a group of musicians to celebrate the music of Bob Marley, and pay tribute to the songs by creating some exciting jams, and throwing one fine party. The result was a show in February of 2013 on Marley's Birthday. The chemistry of this newfound group in rehearsal plus the success of the show inspired this new concept for a tribute band: Wake Up & Live.

Wake Up & Live pushes the boundaries of your normal "tribute" band by taking the music of Bob Marley into uncharted improvisational moments. This and the stellar arrangements create a unique and powerful twist on the Marley catalog. After just a year, the Denver based band had already made their mark on the premier stages of Colorado and has continued the growth since then.

Check them out on Facebook, Soundcloud or LIVE!

The band features Dave Halchak on guitar and lead vocals, Keith Hicks on lead guitar & vocals, LaSha & Jamie Jay on vocals, Andrew Martin on keyboards, Neil Ross on bass and J.R Ranck on drums. There are sometimes featured percussionists, horn players and additional sounds as well so be sure to check them out in your town soon!