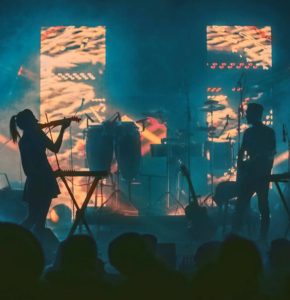 Spectacle w/ Alex Bowman and Mr.
Saturday, January 4th
Details
Spectacle – A two-piece outfit hailing from Denver, CO is being praised as one of the most "unique live performances in dance music"- 303 Magazine. Since the successful release of their 2019 Debut LP "Destination" the Duo has made appearances at world renowned music festivals like Lightning In A Bottle, Sonic Bloom, and many others. The groups ability to blend their live instrumentation alongside mind-blowing drops make for an irresistible dance party and an highly-stimulating live experience! Members Michael Mahan (Producer/Guitar/Synths/Vocals), and Jessica Borth (Violin/Keys/Vocals) work in unity gripping the crowd for a show that is both mesmerizing and captivating from start to finish. Spectacle prides themselves in bringing their audience through an innovative and dynamic journey show, after show, after show…..