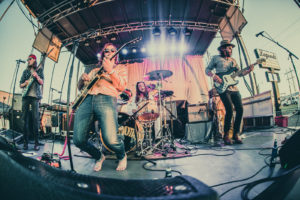 The Mammoths w/ Kind Hearted Strangers & DraLa
Friday, March 13th
Details
Free
Kind Hearted Strangers (9:45-10:30)
With rich harmonies and colorful songwriting, Kind Hearted Strangers bring back a taste of American roots into the world of rock n' roll they fell in love with.
Based in Boulder, CO – the Strangers feature songwriter/vocalist Marc Townes, percussionist/vocalist Brian Ireland, bassist Marshall Carlson, and guitarist Kevin Hinder, who's skillful and dynamic embellishments add another unique layer to the band's raw authentic sound.
The Mammoths (10:35-11:20)
"The Mammoths are an up-and-coming Austin band to watch fueled by their fiery unapologetic live shows reminiscent of a young Led Zeppelin. In meeting with these guys at AMF on their future plans, this band is clearly driven on playing hard and using the old school work ethic of making fans one sweaty show at a time," said Alex Vallejo (Vallejo Music Group/Austin Music Foundation).
DraLa (11:30-close)
After the bands, local legend DraLa will keep the dance floor raging until closing time with thick beats and heavy bass music!